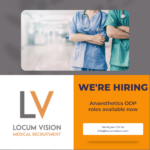 Website Locum Vision
Locum Vision, A leading nursing agency and preferred supplier to several NHS Trusts, with over 10 years experience, have a number of exciting new opportunities. We have recently been awarded supplier status to a number of prestigious private hospitals who are currently recruiting for a multitude of roles.
Are you looking to make the change to working in a much less pressurised environment? With solely elective patients on an average patient ratio of 2:1, you could be on the brink of your next big career move with Locum Vision.
Our private hospital in South London are currently seeking an experienced Anaesthetics ODP to work with on a full time basis for 3 months initially, however would extend for up to a year for the right nurse.
*Your choice of shifts
*Fast track registration
*Experienced recruitment consultants
*24-hour support service
*Free mandatory training
*Holiday pay
*£200 refer a nurse bonus scheme
Minimum requirements:
Minimum 6 months recent relevant UK experience.
Surgical experienced required for Private Hospital Setting.
Full occupational health immunisation.
A current NMC PIN
Hourly rates from £45ph – £55ph
Why Locum Vision?
With a reputation for delivering high quality care for over 10 years, Locum Vision is one of the UK's leading nursing agencies.
As well as being committed to caring for our clients, Locum Vision also cares for its staff. Our professional and friendly approach gives our workers the support they need to grow and develop in their role. Our staff are valued and encouraged to be the best they can be.
So if you are passionate about caring, join Locum Vision today.
How to apply:
E-mail – bng@locumvision.com, alternatively call 01908 303080 and speak to Ben Ng
Please note due to the volume of applications we receive, we are only able to contact those that are suitable. We thank you in advance for your application.
We recruit
Locum Vision is a healthcare recruitment agency for Registered General Nurses and all speciality Nurses (RGNs), Registered Mental Health Nurses (RMNs) and Healthcare Assistants (HCAs). We can offer you a fantastic variety of long and short term temporary nursing jobs.