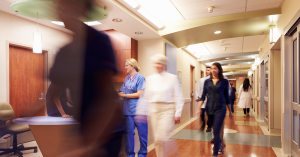 In the autumn of last year, research commissioned by Unison established that 85% of NHS trusts were finding recruitment difficult and that staff shortages, particularly in experienced and specialist roles, were being felt across around 80% of the sector. The result of these shortages has been that trusts are increasingly turning to locum staff to fill staffing gaps– almost 89% of trusts are now using this solution to ensure that provision of services to the public is not affected. But what factors have caused these shortages?
Situational factors
There are a number of things that are having an impact on the appeal of the medical profession and working within the NHS, as a permanent employee. Perhaps one of the most significant is the huge increased demand for medical services, which has risen steeply and had a particularly severe effect on specialties such as accident and emergency. This unplanned rise in the numbers of people passing through the doors of hospitals and GP surgeries has led to unprecedented pressure on those working within the system. The safe staffing guidance following the 2013 Francis report on care failings at Mid Staffordshire Foundation Trust have also been blamed by many for creating vacancies and putting staff off from wanting to work within the NHS on a permanently contracted basis.
Pay
The same Unison poll that revealed the staff shortages also found that some 65% of those they spoke to (a pool of 10,500 NHS employees) were considering handing in their notice. With these levels of dissatisfaction the first place any private employer might look is at the salaries of those involved and whether they are being fairly compensated for the work done. The two year pay has had a huge impact on medical staff, not just in terms of the difficulties of being paid less but also on levels of morale and commitment to the job – as the statistics from the Unison research demonstrate. With pay increases now frozen at 1% for the next four years many believe that NHS pay scales are now behind living costs that working the job has become much less aspirational particularly for those with families and mortgages.
Hours
Of the 10,500 employees polled by Unison, more than half revealed that they were regularly working unpaid overtime. When this is combined with the freeze in pay it could be contributing to increasing staff shortages . The pressures of the job, plus the unsociable hours have been blamed for increasing stress. Four in five of those who took part in the Unison survey said their workloads had increased in recent years and with rising demand for services this looks set to continue.
A lack of UK staff
At the start of this year it was reported in the media that up to 3,000 doctors have been hired from overseas by the NHS in the past year with staff being recruited from countries as diverse as Poland, Syria and the Sudan. The reason for these overseas hires is that there simply aren't enough UK trained doctors. The issues are especially acute in some medical specialties, including A&E, radiology, ophthalmology and general medicine.
Steps are being taken to try and head off the potential crisis that could arise if shortages become critical – via schemes such as Widening Participation. This idea aims to open up medical training to anyone who is interested in it and move away from the concept that becoming a doctor is something only those in the elite or privileged parts of British society can have access to.
Locum work or working abroad has become more appealing
While figures vary, it seems that significant numbers are leaving the UK to work overseas – according to Britain's most senior casualty doctor, a third of A&E doctors have left the UK to work abroad in the past five years. Many more are reducing their commitment and taking advantage of increased flexibility and better hourly pay rates that are offered by locum work, rather than a full time contract. With locums paid for overtime, benefitting from a higher hourly rate and able to take time off for holidays and to balance other commitments it could be the right option for you.
If you would like to discuss the roles that we have available contact our experienced consultants today.